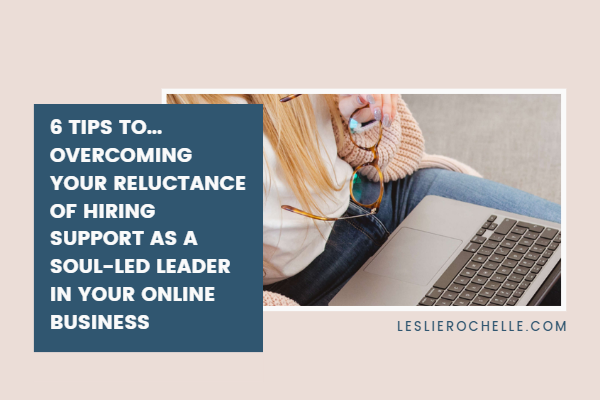 6 tips to overcoming your reluctance of hiring support as a soul-led leader in your online business.
As a soul-led leader, it can be challenging to determine when additional support is needed and how to overcome any reluctance to bring on that support, especially if you are new to leading others. Here are some tips that may be helpful:
Download your free guide…
Identify areas where additional support is needed

Take a step back and assess where the gaps in your business or team may be. Are there areas where you are stretched thin or where you or your team are struggling to keep up? These may be areas where additional support could be beneficial.

Be honest with yourself about your limitations

It's important to recognize that no leader is perfect, and everyone has their limitations. Acknowledge where your opportunities lie and where additional support could help you overcome them.

Seek advice from trusted colleagues or mentors

Reach out to others in your industry or network who have experience in leading others. They may be able to provide valuable insights into how to determine when additional support is needed and how to overcome reluctance to bring it on.

Consider the potential benefits of additional support

Think about how bringing on additional support could benefit your team or business. Will it allow you to take on new projects or expand your services? Will it help your team be more productive or efficient?

Start small

If you are new to leading others, it can be overwhelming to think about bringing on a large team or staff. Consider starting small, with one or two additional team members, and gradually build from there as you gain more experience and confidence.

Remember that asking for help is a strength, not a weakness

It's important to remember that asking for help or support is not a sign of weakness. In fact, it takes strength and courage to recognize when additional support is needed and to take action to bring it on.
By taking these steps, soul-led leaders can determine when additional support is required and overcome any reluctance to bring it on. It's important to remember that leadership is a journey, and it's okay to ask for help along the way.
Download your free guide…
Lead with Love ✨
Leslie
---
Work with Me...
If you're ready to stop doing everything in your business by yourself and start outsourcing in a way that actually gives you back some of your time.
✓ Get 12-weeks of 1:1, personalized guidance from a mentor (me!) who spent decades building teams for a multi-billion-dollar company inside Fundamentals.
Click here to check out all the details.
---
What others are saying…

"I'm not being dramatic when I say that this connection with Leslie was the catalyst to me completely taking back control of my life and my career. Due in no small part to her encouragement, coaching, and friendship, I am finally bringing a better and truer version of myself to the workplace and am feeling happier and more fulfilled (and successful!) as a result." Victoria S.
---

"From the depths of my soul, I'd like to appreciate Leslie Rochelle, who coached me through a fully immersive & transformational breakthrough day. We spent 10 hours working through the very core of my leadership and business mindset to uncover the limiting beliefs and remove all the emotions which have held me back for almost my entire career." Carmen L.
---

"You know that feeling of frustration you get when you don't know which course of action to take? Or maybe you are struggling to achieve a work/life balance that makes you feel fulfilled. Leslie is a person who can help you examine your options and make choices or reframe your situation in a way that is consistent with your personal values and beliefs. This unique ability is one of the many reasons Leslie became such a beloved leader to begin with. Leslie is not about denying who you are, she is about self-awareness, validating your own uniqueness and giving it meaningful context." Donna B.